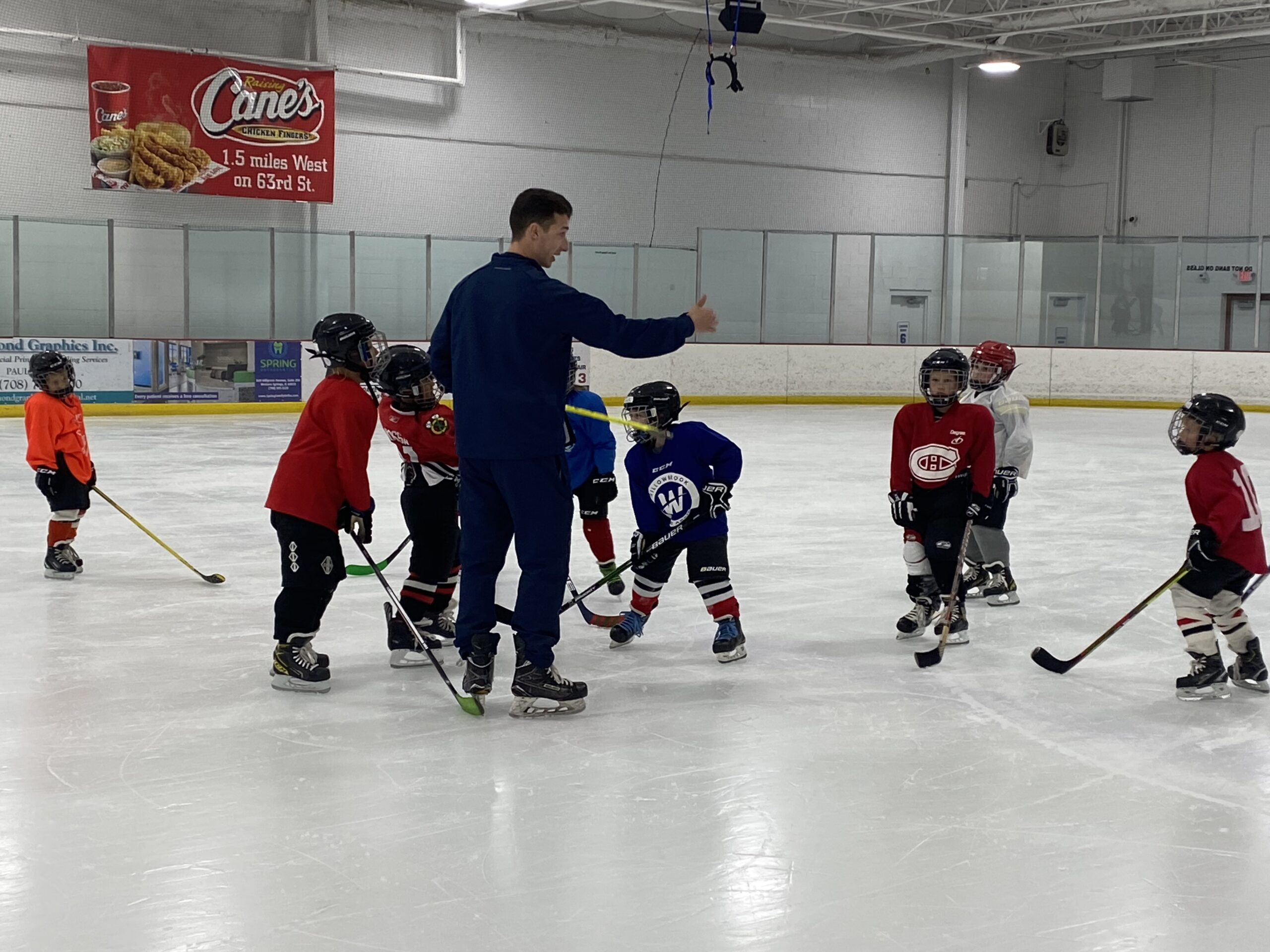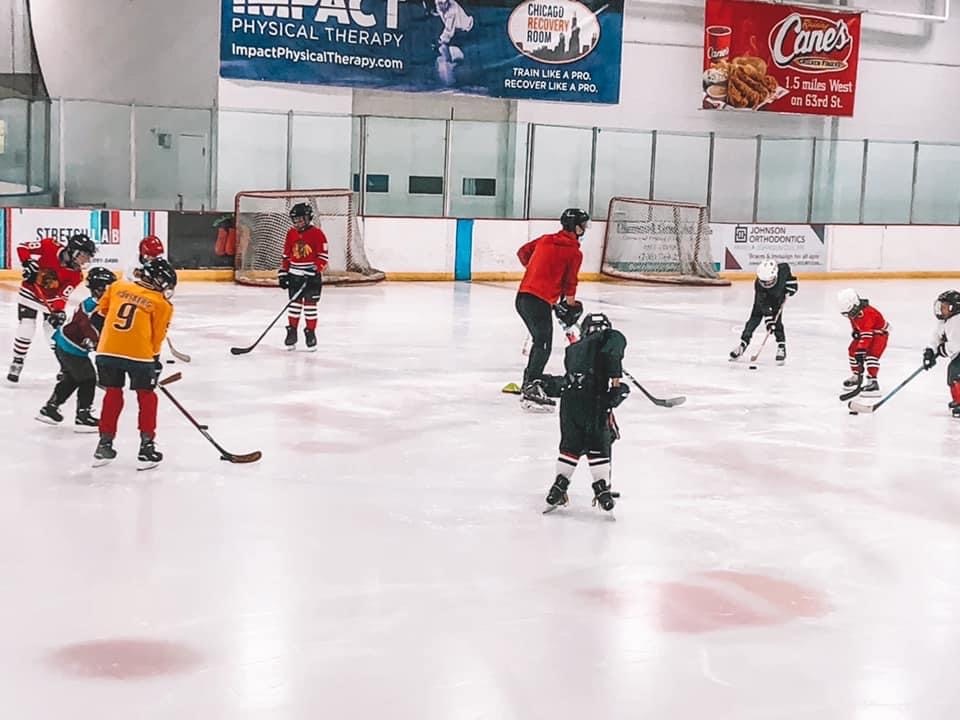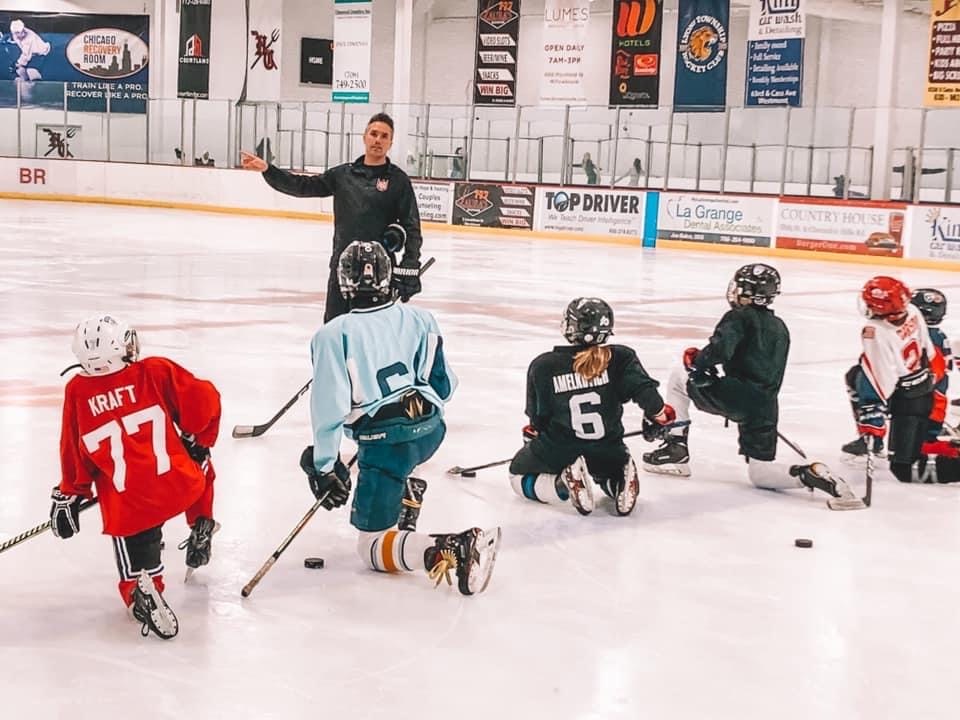 Youth Hockey
Willowbrook Ice Arena has a stepped approach to Youth Hockey. First we focus on instilling proper skating techniques in our Learn to Skate program where all novice skaters will learn the foundational footwork critical to the success of a hockey player.  In Intro to Hockey, players will learn how to move with a hockey stick, and begin puck and stick-handling drills while building their skating proficiency. In Learn to Play 3 on 3, participants will learn concepts behind playing the game of hockey as they increase their skills as a skater and stick handler. See below for details for each program.
Beginning in the Fall of 2021 we will be hosting a Mite (birth year 2013 or younger) travel AAU in-house level team. See below for details.
Evaluations
Testing for skaters new to Willowbrook Ice Arena will be conducted during the first week of the program. We will place players based on their ability to execute specific skating and stick mechanics. Each player will sign up for the level they believe they fit. However, the coaches may move them based on the evaluation.
Refund Policy: Should a client decide after completion of ONE class they would like to drop from the session, a  pro-rated refund will be granted. A $5 processing fee will be charged. After two classes have been attended, NO refunds will be given. After the third class of the session is offered, NO refunds will be given for any reason.
Hours of Operation
6:00 am - Midnight Daily
Phone:
Public Skate Hours
Friday: SEE DAILY CALENDAR
Saturday: SEE DAILY CALENDAR
Learn to Skate
Players with no or limited skating experience will be placed in the Learn to Skate program. The focus of this program is to build a confident skater with proper foundational techniques necessary to be a talented hockey player.
To advance into the Intro to Hockey program, the player must be able to competently perform Basic 3 level skills: - forward stroking showing correct use of the blade - 6 consecutive half swizzle pumps (clockwise and counterclockwise) - moving forward to backward two-foot turns on a circle (clockwise and counterclockwise) - beginning backward one-foot glides with a focus on balance - backward snowplow stop (R and L) - forward slalom
Learn to Skate participants will not use hockey sticks on the ice. The focus is 100% on learning to skate and proper use of edges. Hockey equipment is optional, but a helmet is recommended.
Intro to Hockey
This program will accept players proficient in the Learn to Skate Basic 3 skills as stated above. The focus of this program will be instilling mechanics that promote proper handling of a hockey stick and puck, and the incorporation of skating skills that aid the player in changing direction on the ice.
To graduate from this program and advance into the Learn to Play 3 on 3 program, the player will need to have sound foundational skating skills, proper stick mechanics and puck control.
Required Equipment - Hockey Skates, Helmet, Shin Guards, Shoulder Pads, Elbow Pads and a Hockey Stick (cut to the correct length).
Learn to Play 3 on 3
This program will accept players that have mastered skills consistent with those taught in the Intro to Hockey program. Players must have strong basic skating skills and demonstrate the foundational mechanics of controlling a hockey stick. 3 on 3 participants will meet twice a week. On Saturdays they will practice stick/puck/skating techniques and on Sudays they will practice game skills.
In Learn to Play 3 on 3, the player will learn to think like a hockey player. The introduction of concepts and strategies needed to become successful in the game of hockey will be taught. The player will learn advanced skating mechanics as well as higher level stick handling and shooting techniques. The objective of this program is to graduate the players to club hockey and a lifetime of love for the game.
Required Equipment – Hockey Skates, Helmet, Shoulder Pads, Shin Guards, Elbow Pads, Hockey Pants, Hockey Stick (cut to the right length).
Coming this Fall 2021!!
AAU Mite Travel Team
Willowbrook Ice Arena is excited to announce we have been approved for a Mite level team which will be coached by our Youth Hockey Director Steve Egan. If your child is birth year 2013 or younger and interested in playing at the in-house level, please email Steve at youthhockey@willowbrookicearena.com. Players will have two practices and one game a week throughout the season as well as two tournaments. The season will run Sept 2021-Feb 2022 with additional skates in August. Tryouts are scheduled for 8/12 4:50pm, 8/21 1:45pm and 8/22 1:30pm. Click the tryout link above to register.
Tryouts:
$90 (players are encouraged to attend all 3 sessions; no prorating)
Aug 12 4:50-5:50pm
Aug 21 1:45-2:45pm
Aug 22 1:30-2:30pm
Register through the button above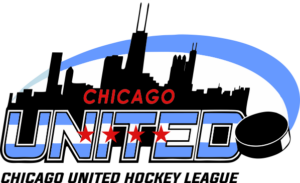 Additional Development Opportunities
True progress comes from time on the ice. Players are encouraged to attend Public Skate and Open Hockey sessions to receive the maximum benefit from training provided in the Learn to Skate, Intro To Hockey and Learn to Play classes.